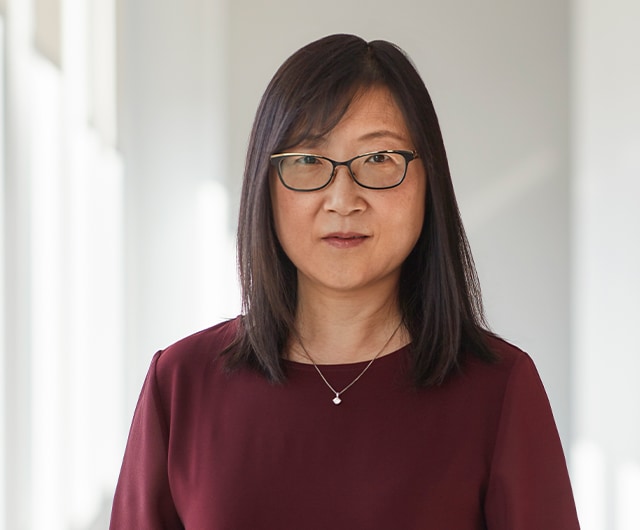 Di Xu
Vice President, Corporate Controller
When I was growing up in Changchun—the capital city of Jilin province in Northeast China—I could never have imagined myself in my current career. You see, I loved reading classic novels and poetry because you could experience the story and feel the happiness or the sorrow. I loved to write, too. I would write about the people around me, and my teacher always told me that my writing showed I could see the kindness in people's hearts.
My love for reading and writing led me to earn a degree in Chinese literature at Peking University. Soon after I graduated, I got married and came to the U.S. with my husband, who was pursuing his Ph.D. in chemistry here. It was quite a journey for me to decide what my next step in life would be.
I attended the University of New Mexico, earning a master's degree in economics and later received a master's degree in accounting from The University of Akron. Although I had previously majored in literature, I found that accounting came quite naturally to me. When I began working as a business analyst for Coca-Cola Bottling Company in Akron, Ohio, people encouraged me to get my CPA license. Well, I didn't have a lot of time to prepare because I was working and had a two-year-old child. So, I reviewed my college notes, took the exam, and earned the sixth highest score in Ohio. That's why I say accounting comes natural to me and why I've worked in the finance world for the past 20 years.
In my career, I have always looked for new opportunities and new challenges. I held positions in accounting, financial planning and analysis, and financial reporting at various companies before taking a position as corporate controller with Associated Materials. In every job, I learned something from my co-workers and leaders—including the importance of owning my own career development. Like my Chinese language teacher said, I do see the good in people, and I always have an eye to finding what I can learn from them.
Since joining Swagelok as corporate controller in 2015, I've felt as if I'm truly home. Everything is of the highest standard—our customer focus; our high-quality products; and our financial records, procedures, and policies.
Swagelok's focus on people and career development strikes me deep in my heart because I know how important it was to me. I feel fortunate to have met so many wonderful people here who accept me as I am; who are patient with my English; and who've given me opportunities, recognized my progress, and trusted me to take the next step.
As a leader, it's important to hire the right talent and help them on their career journey. I feel strongly about letting people shine in their strengths. So, I try to listen to my team with compassion to understand their backgrounds and hear their concerns. I want to be the person who is truly impactful for associates' career development.
Part of being vice president, corporate controller is being responsible for the day-to-day operations and accomplishing them to the highest level. My other responsibility is assisting the Chief Financial Officer in the financial decisions that impact the company and move the organization forward. The biggest challenge will always be the macroeconomic conditions that impact every business. My role is to help make certain we continue to make decisions that not only further strengthen our balance sheet, but also help the company go to the next level.
I am married, and we have one adult daughter. I'm proud of her. We're a close family, and we love to travel the world—to see remarkable landscapes, explore new cultures, and enjoy local food. Travel allows you to look at the world in a new way and embrace new perspectives that are beyond everyday life.