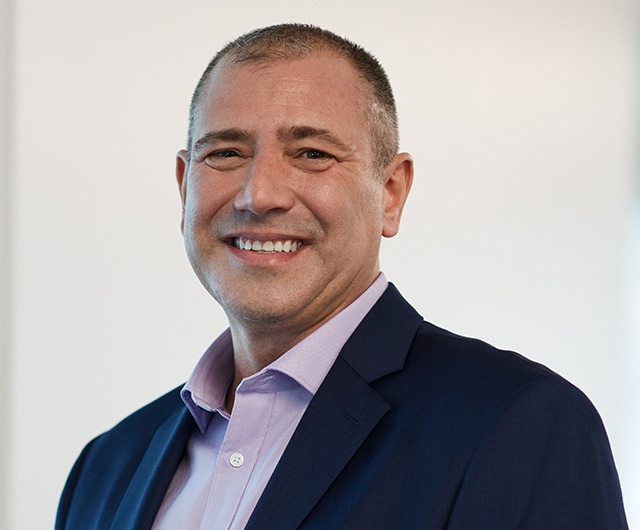 Dwayne Petish
Vice President of Tax and Treasurer
My early life was decidedly Northeast Ohio centric. I was raised in the suburbs on the west side of Cleveland, where my parents, grandparents, and extended family all lived. I feel fortunate to have had that strong support system as I was growing up.
I commuted to college at Baldwin Wallace University while I worked third shift at KeyBank. Although my earlier interests were in architecture and accounting, I ultimately shifted gears and earned a Bachelor of Arts degree in business administration.
After graduation, an opportunity opened at Eaton Corporation. They were looking to build out their analytical team focused on a global ERP implementation, and I joined the organization as a global banking systems administrator. At the same time, I was interested in returning to school for my MBA. My boss suggested that I look into the program at Baldwin Wallace because it operated very much like a business.
I entered with a group of students who progressed through an 18-month program in lock step with one another. It was a fun experience because we had a neat array of people, ranging from me—a recent college grad—to a recent grandmother. Within our subgroups, we got to know each other extremely well; everyone played a different role, and we truly helped pull each other through the program. It was an amazing experience that relates well to a real work environment.
During my time at Eaton, I held my first role in treasury, and I've worked in a treasury capacity ever since. Next, at Lincoln Electric, I served in an international treasury capacity and had the opportunity to travel throughout the world. It was a departure from my childhood experience, and I appreciate how being exposed to different cultures opened my mind and made me think differently.
I continued to gain exposure to different experiences at other organizations—leading an entire global finance team, completing complex recapitalization efforts, working for a short time at a private equity firm, and entering an organization with a turnaround management team. Then, early during the COVID-19 pandemic, the opportunity at Swagelok kept appearing on my LinkedIn feed. Although I wasn't looking for a change, I always heard excellent things about the organization and ultimately decided to apply. It was an interesting time to be hired into a new role and build relationships.
There's something truly special about the people and culture at Swagelok. When I joined the organization, my background was primarily treasury focused, but the willingness of the entire team to get me up to speed on the business was quite unique. I couldn't have asked for better support from my colleagues.
In my two years here, we've merged the tax and treasury functions, and that's created a lot of energy that is helping us operate more fluidly. It's also allowing us to share talent and knowledge across the functions. Now, as vice president of tax and treasurer, I'm responsible for tax, treasury, and payroll, as well as risk and internal audit. I'm continuing to focus on building out the team to support the changing needs of the business. The frequency of change is more rapid today—and our business serves markets that are growing by leaps and bounds, and I want to ensure that we continue to make strategic decisions that will guarantee the future stability and success of Swagelok.
I'm also passionate about fostering development throughout the organization. I encourage associates to continue to challenge themselves and believe that just because you've mastered something today doesn't necessarily mean you are prepared for the future. From my perspective, Swagelok offers seemingly endless opportunities for training and development, and I'm focused on making sure that individuals who have the desire to move forward in the organization are offered the opportunity to explore, learn, and grow. We do a lot of cross-pollination throughout our organization, and I think that makes all of our associates more powerful.
Outside of work, I serve as secretary on the board of the Eaton Family Credit Union. I love beach vacations, and I also enjoy continuing my international travels—now for personal enjoyment. For the last several years, I've tapped into my earlier interest in architecture and have been working on an extensive renovation of the home that I share with my partner of 25 years.