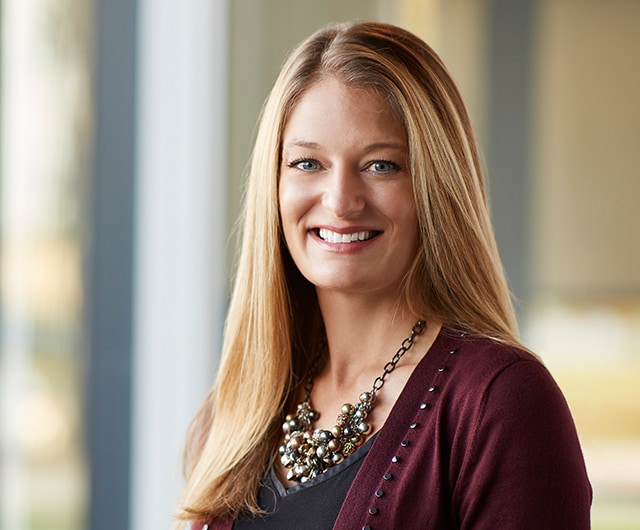 Hannah Delis
Chief Human Resources Officer
Growing up, our dinner table conversations would last for hours. Although I didn't realize it at the time, these conversations would shape my future.
Both professionally and personally, my parents were dedicated to serving people in our community. Learning about their work—and their passion for it—made a lasting impression. As a result, I know what's important to me at my core, and that is to support and encourage others as they work to develop and achieve their goals.
I attended The Ohio State University and studied criminology, which focuses on the biological, psychological, and social aspects of crime. During an internship with the Ohio Department of Youth Services, I worked on two distinct projects that focused on positive approaches to rehabilitating youth. After working in that space for about 18 months, I decided I wanted to help kids before they entered the system, and I decided to pursue a Master of Science degree in social administration at Case Western Reserve University.
With a license in social work, I concentrated on intensive in-home children and family therapy. I worked to strengthen families from the inside out by addressing mental health and family therapy needs. It was meaningful to impact positive change and help families remain intact. Still, many of these families faced incredible adversities, making it difficult not to focus on their needs 24/7. Finding the personal balance ultimately led me to explore other opportunities.
As I considered a career change, I thought about how my foundational skills could transfer to a different field of work. And I kept coming back to the values and the commitment to social service that my parents instilled in me.
Human resources felt like a natural fit. I had been working to help people thrive in the community, and a career in HR would give me the opportunity to do the same for people in a business environment.
It was wonderful to join an organization that truly believes in experiential learning, and I'm grateful to Swagelok for taking a chance on someone who didn't check all the boxes of a traditional HR background. I started with Swagelok in 2012 as an HR generalist and had an opportunity to work with both operational and functional areas of the company.
My leadership journey began as the hourly workforce development manager. This role offered a great way for me to learn more about our operations and our shop floor associates, who are so critical to the success of our organization. I moved to a role as HR manager of our valve services group before being promoted to director of organizational development and talent management and then director of global HR business partnerships.
I've learned so much through my career journey. My Swagelok experiences have given me a true appreciation for the different aspects of human resources and an understanding of how important this function is to the organization. They've also prepared me for my current role as chief human resources officer.
Today, as Swagelok navigates changing work trends, our HR team is focused on enhancing the associate experience to attract and retain high-quality, diverse talent with the skills we need to be successful for the future. We continue to build upon our core values that have made Swagelok successful for seven decades. Our goal is to help associates thrive and reach their highest potential in a culture that fosters inclusion and belonging.
Outside of work, I'm married and have two young daughters. My husband and I grew up in close-knit families, and we want the same for our girls. I'm so proud of them and everything they're becoming. I am also proud that I balance work and home so that I can be both a good mom and Swagelok associate.
Currently, I serve as the chair of the board of the Swagelok Foundation and am on the board of trustees of the Children's Museum of Cleveland. My girls are consumers of this wonderful museum, which promotes learning through play. I also love that the museum is dedicated to serving the community through Museum for All, which makes the museum accessible to all populations in the greater Cleveland area.