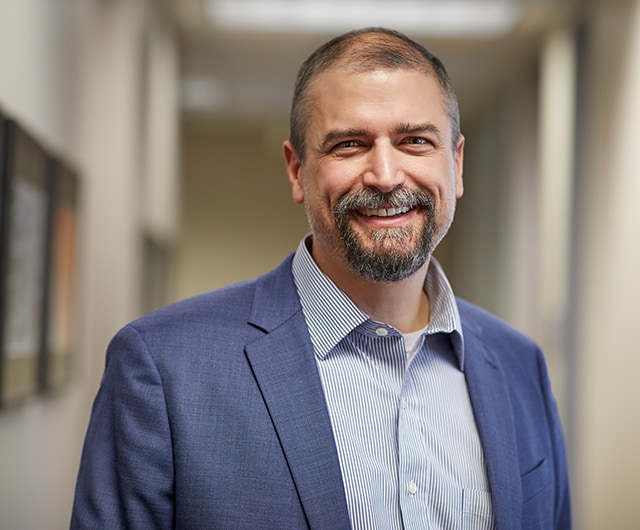 Jay Nordholt
Vice President, Corporate Engineering
I come from a close-knit family with a very strong work ethic, and I learned early on that if you're expected to be somewhere, you show up; if you're expected to do a job, you complete it. My grandfather and great uncle owned a manufacturing plant in my hometown, and I worked there every summer during college.
After graduating from Kent State University with a degree in political science and constitutional law, I was accepted to law school. Still, there was something about the summers spent in a manufacturing plant that piqued my interest. I liked the tangibility of working with people to create products and processes.
So, I began my career with Royal Appliance. It was a period of huge growth for the company, and fortunately, I was able to learn and grow with them; that's where I was introduced to lean and continuous improvement. I went on to work for Ford Motor Company and then Western Enterprises. My roles ranged from assembly, machining, and warehousing operations to engineering, supply chain planning, continuous improvement, lean, and even marketing.
These experiences confirmed my interest in manufacturing operations. I liked being involved in both the day-to-day details and the long-term strategic view of the business. It's gratifying to see a product designed, manufactured, and shipped to solve a problem for a customer, and it's just as fulfilling for me to reflect on the big picture—where do we want to go as a department or an organization, and what do we need to do to get there. At both ends of the spectrum, I find it interesting to look at the complexity of the operation and then find ways to simplify and drive continuous improvement.
In 2000, I joined Swagelok as a site manager. I later dove deep into lean and continuous improvement as manufacturing strategies manager—leading efforts that define the way we justify and purchase equipment to creating the organization's first lean cells and managing the due diligence and integration of a local acquisition. I learned something new from every project, and the breadth of experience prepared me for future leadership roles in continuous improvement and quality, as well as operations.
In my current role as vice president, I'm still intrigued by the challenge of simplifying the complex. A big part of my role is aligning our engineering efforts to the needs of our customers and the business so we can make the best choices and focus our valuable resources on those areas that matter most. I enjoy working with a team of people who are proud of their success, yet open to improvements and changes that will help us be as successful in the future as we are today.
Being a leader is about helping people understand what we need to do at a very high level—why we come to work, how we can help the organization, how we can help the customer. I am passionate about sharing my vision for the future and helping the team understand what "good" looks like so that we all share the same clear picture of what we are trying to accomplish. It helps us stay focused on what's important and accomplish our goals more quickly.
When I'm not at work, I'm with my wife and children. I was lucky to grow up with a great family, and I've carried those strong family ties with me. We love to travel together, and we love the outdoors, so we're hiking, skiing, whitewater rafting, or just walking the dogs.
Over the years, I've participated in many teambuilding experiences with Greater Cleveland Habitat for Humanity, and I now serve on the board. Habitat for Humanity is a great cause and a great fit with my personality. I love the short-term satisfaction of raising money, building houses, and meeting families at the dedication ceremonies. At the same time, it's great to see the long-term impacts the organization is making through the revitalization of neighborhoods and communities.