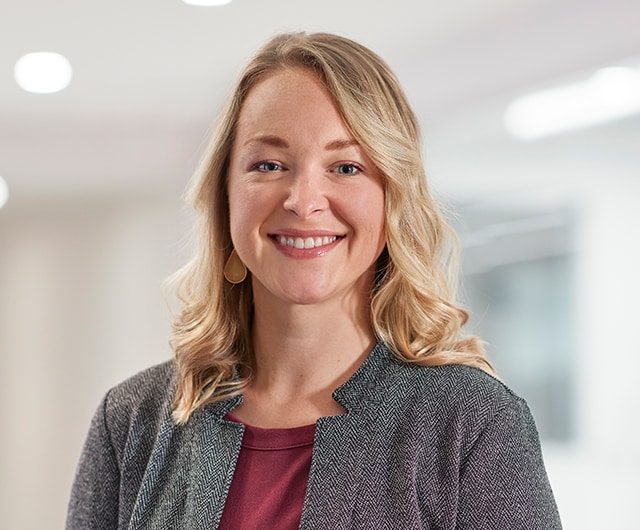 Jen Woo
Vice President, HR Operations
My passion—whether it's at work or in my personal life—is all about helping people; that's when I'm happiest.
As an only child of parents in the community service industry, I grew up with an appreciation for living your life in service to others. I volunteered in the community throughout high school and college and knew that I wanted to pursue a people-focused career. So, human resources felt like a natural fit.
After earning a Bachelor of Arts degree from The University of Mount Union, I started my career as a human resources manager at Target. I grew so much in that very first role thanks, in part, to a manager who took me under his wing, gave me opportunities, and supported me with the tools and resources I needed.
He also taught me that you're never too busy to focus on development, and I've carried that lesson forward. I believe if you take the time to focus on developing others, the business results will come. I was fortunate to benefit from that approach early in my career, and I hope that I can help others do the same.
While at Target, I relocated to Cincinnati. When I was ready to return to Northeast Ohio, I left Target and joined Goodyear Tire & Rubber Company's HR team. There, I served in a variety of HR roles, including organizational change specialist, and earned my qualification as a certified change management practitioner.
When a recruiter reached out to me about a position with Swagelok, I remembered an earlier conversation I had with an acquaintance who told me about her wonderful experience with the company. So, I joined the organization as an HR business partner in 2016, supporting some of Swagelok's corporate functions. I felt an immediate connection to Swagelok's culture of life-long learning and development, which had been so important to me early in my career.
At Swagelok, we truly believe in people learning as they grow, and I've been fortunate to have had many wonderful opportunities to experience that. After serving as an HR manager in operations, I joined a center of excellence in learning and development and, eventually, organizational development. Although I didn't have a deep background in this area, I was trusted to learn and demonstrate new skills. In this role, I also learned the importance of external networking and benchmarking. An outside perspective helps us better understand industry trends and gives us a holistic approach to creating our associate experience.
Gaining that broad knowledge and establishing a network helped prepare me for my next role as director, global HR business partnerships, where I helped the organization move toward a hybrid work environment for our office associates. It's still a work in progress, and we currently have a team in place to look at how we can provide the right flexibility for our shop floor associates, too. I'm humbled to have played a role in making it possible for our associates to have the flexibility to take care of their whole selves.
Today, as vice president of HR operations, I'm responsible for HR business partnerships, as well as HR systems and services, and I'm excited about the opportunities we have to collaborate as a team and support the business in new ways. The insight we gain through our business partnerships will help us tailor our HR processes, policies, and procedures to meet the needs of the business in a way that's efficient and intuitive. We're also keeping attraction, retention, and engagement top of mind by listening to and understanding our associates and leaders. Based on their feedback, we continuously evolve to meet their needs.
I serve on the board of The Littlest Heroes, which is a small but mighty organization that provides emergency financial assistance to families with children who have pediatric cancer. We try to make their day-to-day lives a little easier by helping to pay for things like utility bills or hospital parking; it's wonderful to know that we can help alleviate a little stress or worry. I also serve on the board of the Swagelok Foundation, helping to decide how to best support our local communities and promote manufacturing and STEM (science, technology, engineering, and math) careers.
When I'm not at work, I'm spending time with my husband and two young boys. I was fortunate to grow up in a strong, supportive, and loving family, and my husband and I strive to create that same feeling for our boys. We love the outdoors, and you'll often find us out for a walk, playing in a park, or exploring one of the many wonderful hiking trails in our community.