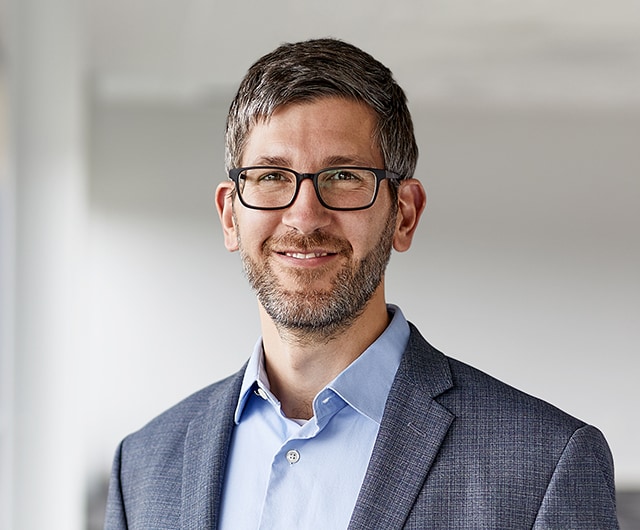 Matt Speece
Vice President, Sales Support
I've always been interested in understanding how things work. When I was young, that interest motivated me to learn how to fix equipment with my dad on our family farm and led me to pursue an engineering degree at The Ohio State University. That same thirst for understanding has guided my career path at Swagelok.
Fresh out of college, I joined the company's career development program—its strong leadership focus stood out to me. I worked in operations, planning, and the engineering disciplines and met many people who affirmed the organization's values and would become inspirations on my journey. My experience in the program confirmed that I wanted to serve in a leadership role and that Swagelok was the place I wanted to build a career.
My first leadership role was as a 3rd-shift supervisor in the make-to-order fittings department. It was an awesome challenge to find my footing as a young leader of experienced machine operators. I discovered how to use my skills to remove roadblocks, support career development, and help connect the team's talents to make the whole better than the sum of its parts. Being committed to the team helped me earn their trust.
I continued to build my leadership skills as an engineering supervisor and later as a plant manager. As I navigated the nuances of managing professionals and other leaders, I learned a lot about leadership and a lot about myself. I am passionate about achieving results, and the plant manager role helped me understand the importance of prioritizing work and bringing people with me to create the results.
The more I learned about the operations side of Swagelok, the more I wanted to understand how Swagelok's business worked as a whole. So, I built that aspiration into my own career plan and began sharing my desire to learn more about the commercial side of the business with my leaders and mentors.
I was excited when I was asked to establish and lead a new group in the marketing department and execute a strategic plan. My network of peers and leaders were incredibly supportive of me as I built new relationships with sales and service centers, met with customers, and tested my ability to influence others across the business. After about two years, I moved back to the operations side of the organization, serving as manufacturing strategies director and, most recently, valve services director.
Today, as vice president, sales support, I'm looking forward to building on the momentum of our commercial organization, defining the value our team can bring to the organization, and delivering it with clarity and focus. Swagelok products are sold through the world's best industrial selling network, and I want to ensure that our team is doing everything we can to uphold and strengthen that model for the future. As in past roles, I'm focused on building trust and making the organization better, collectively.
On a more personal note, I've known my wife since we were kids, and we're now raising three daughters of our own. We enjoy staying active together as a family—hiking, playing sports, traveling, and of course, cheering for the Buckeyes on autumn Saturdays. I also serve on the board of The Gathering Place. My family, like so many others, has been impacted by cancer, and I'm proud to support The Gathering Place's mission to make the journey easier for affected families.