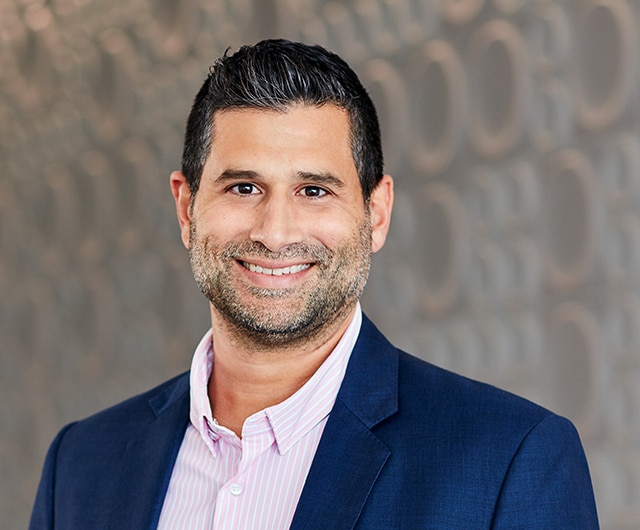 Michael DiCesare
Vice President, Information Technology
As the youngest of five children, I grew up surrounded by faith, family, and a dedication to hard work. My early years shaped who I am today—both as a professional and as a person.
My father instilled a strong work ethic. He believed having a skill was important, but ambition and hard work were even more so. I took that philosophy to heart and used it to drive myself to learn more, build resiliency, embrace change and succeed.
I attended Cleveland State University and worked several jobs while attending college. During my last year of school, I landed a paid internship with Jo-Ann Stores, Inc., which enabled me to apply what I was learning as an information systems major in a real-world setting.
The company was embarking on the largest SAP retail implementation in North America at the time, and I seized the moment. I eagerly accepted the opportunity to learn and deliver results to demonstrate my value to the organization. The internship turned into a part-time job, and I started my full-time position as a certified SAP developer three days after graduation.
A few years later, I joined a consulting firm and began working on a major SAP upgrade for a client—TravelCenters of America (TA). I clicked with the culture at TA, and they soon offered me a full-time position. I was still responsible for technical work, but I also enjoyed my first experience managing people and supporting their development. I began to find my voice and discover what it means to truly be a leader of people.
At age 30, I took a risk, left my job, and went out on my own as an independent SAP consultant. The decision was a professional game changer. I had to quickly adapt—learn new skills, adjust my approach, and focus on staying ahead of the curve while working relentlessly to satisfy my customers.
Although I loved the challenges and fast-paced nature of consulting, I wanted to spend more time at home with my young family. So, when a position opened with one of my customers—The Goodyear Tire & Rubber Company—I joined the company full time. For the next ten years, I weaved my way through various leadership roles to become IT director of global business operations.
I wasn't looking to make a career move, but when I heard about an opportunity with Swagelok, I was intrigued. Throughout the recruiting process, I heard consistent themes about the organization's rich history, positive and supportive culture, and strong business results. I saw an opportunity to learn and grow in new ways.
In 2020, I joined Swagelok as IT director of business operations and advanced to director of global enterprise applications and data in 2022. I was thrilled to move into the business as marketing director of global products before being named vice president, information technology in July of 2023.
In my current role, my goals are to lead a function that is highly valued by our internal customers and sales and service centers. My team and I are committed to elevating IT to serve as a strategic business partner. While it's extremely important to have a stable IT foundation, it's also critical that we challenge ourselves to be innovative and nimble in a business world that is so rapidly changing.
As a team, we need to be curious, eager to work with our business partners, and focused on delivering results. It's important to extract maximum value from current IT investments, while being proactive with emerging technologies and trends to deliver meaningful business outcomes.
I enjoy helping people develop and reach their professional goals and find great joy in seeing others reach their full potential. I firmly believe transparency and trust are vital in every organization, and I'm passionate about building cohesive teams—up, down, and across the organization. Being able work together in humble and vulnerable ways helps us learn, grow, and continuously improve this great company.
Outside of work, I enjoy spending time with my daughters. They are number one in my world, and I do what I do to ensure they have a good life. I try to be the best father I can be by instilling love, affection, and values to provide a good foundation for them. I am a lifelong Cleveland Browns fan, which truly helps with resiliency and character building!
I also serve on the board of Towards Employment, an organization that is near and dear to my heart because of its work to empower individuals to gain and maintain employment.