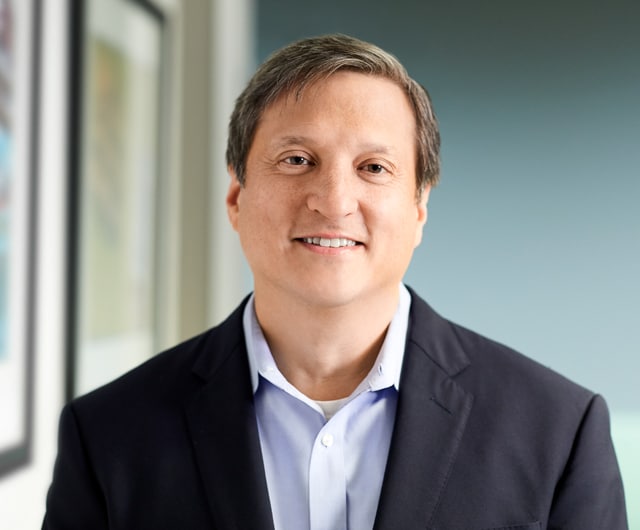 Phil Carino
Vice President Legal, General Counsel and Secretary
I like to challenge myself, both at work and in my free time. I'm a firm believer that people are generally capable of a lot more than they realize, and I enjoy the feeling of facing a big challenge and then overcoming it.
By the time I graduated from high school, I already had my sights set on the challenge of attending law school. With that in mind, I majored in economics and history at Alma College and then went on to attend Cornell Law School.
After graduating, I returned to Cleveland and joined a large corporate law firm, where I focused on antitrust law and business litigation. When I made partner, I expected to spend my entire career there, but one day I got a call from an in-house lawyer at GE. GE needed a lawyer with expertise in antitrust and litigation matters, but who would also support the commercial needs of the business. Being involved in the business side of the law had always intrigued me, so I made the move to an in-house position. After working there for sixteen years, I left GE in 2016 to join Swagelok as its general counsel.
I love being in a business that makes things. I've been in manufacturing companies for most of my career, both before and after law school. I spent my college summers working for a steel-slitting company, where I drove a tow motor, operated a slitting machine, banded slit steel, and hoisted 50,000-pound steel coils with a crane. Later, in the summer before I started law school, I worked as a screw machine operator at a plant in Strongsville, Ohio. While I was there, I couldn't have imaged that, years later, I would become the general counsel of the company that owns that business, a business that Swagelok acquired in 2007.
After twenty years as an in-house lawyer, I find that the biggest difference between a law firm and an in-house role is that I'm very much part of the decision-making process. Working for a law firm, I would counsel and advise clients, but the clients ultimately made the decisions. Now, as a member of Swagelok's executive team, I work within the business and have an ability to influence decisions on the front end of the process. It's helpful to be in conversations at the outset, when I may be able to provide input that will protect the business—from risk, cost, or work—down the road.
It's important to me that our associates view me as a resource and not as a roadblock. I always try to be approachable, because I don't want people to hesitate to come to me with questions, concerns, or differing views. That's the way we can make the best decisions for the company. I want to help people accomplish their goals, and I want the company to be as successful as possible. The best way to achieve success is to manage risk-reward and figure out how to get things done in the face of the risks that exist.
Outside of work, I enjoy hiking with my family, running, cycling, and travel, especially to far away destinations. I spent three weeks in Thailand after law school, including a number of days hiking among, and staying in, small villages near the Burma and Laos borders. And my wife and I spent our honeymoon on a weeklong trek in the Annapurna region of Nepal. We spent one anniversary backpacking on trails from town-to-town and castle-to-castle in Luxembourg. I also enjoy the physical and technical challenges of ice and alpine climbing and mountaineering.
My wife and I have been married for more than 25 years, and we have two children. Our son has autism, and when he was two years old, he was evaluated by the Cleveland Hearing and Speech Center. I was impressed with the passion its people had in helping clients with holistic hearing, speech-language, and deaf services. Now, many years later, I am proud to serve on its board of directors.