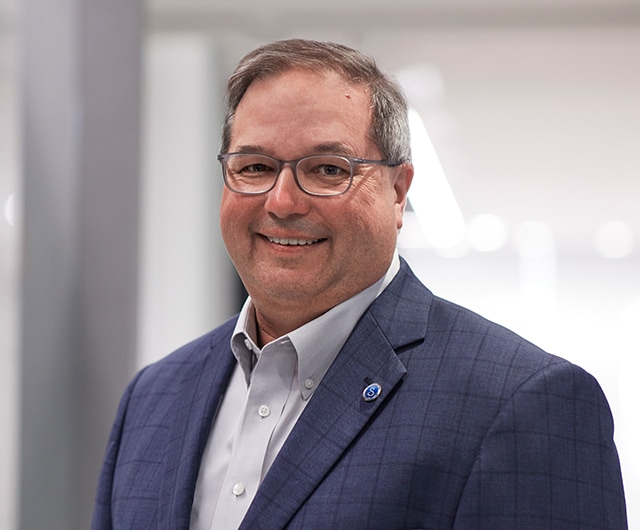 Ron Plazek
Vice President, Sourcing
Growing up, my passions were math and science, so logically, I decided to become an engineer. During the first class in my fourth semester at Purdue University, the professor started talking about Shockley's Equation. I didn't know what that was, but at that very moment, I knew I was done with engineering. So, I moved to the business school where I decided to follow in my dad's footsteps and become a second-generation accountant.
My first job after college was as an auditor with Coopers and Lybrand, one of the big eight accounting firms at the time. I worked with a range of clients during my time in public accounting and found I had the greatest connection with those in the manufacturing sector. When I was ready for a change, I accepted a role that combined the worlds of manufacturing and finance at Rubbermaid; during my tenure I was responsible for all areas of finance, with my favorite role being operations controller. I continued my career in operations controller positions at large, publicly held, consumer product companies.
Since joining Swagelok Company as director of operational accounting in 2013, I've appreciated all that a privately held company has to offer: working collaboratively toward long-term goals, being afforded development opportunities, thriving in a positive culture, and so much more. In 2017, I moved into the role of director of global sourcing. In operational finance, you're always working closely with procurement and there's always a tie to costing and analysis, so the opportunity was a logical next step in my career.
I think I bring a relatively level-headed approach to my work. When I look at a situation, I try to understand both sides of it. That attribute has served me well throughout my career, and it's been really helpful in building relationships with our suppliers. When you understand what your suppliers make and how they make it, when you understand their challenges, you can partner and grow together.
As a leader, I take pride in being an advocate for my team and helping them reach their career goals. Since joining the sourcing group, I've been focused on expanding our business acumen. The transactional piece of our job will always be important, but our ability to look at our work more holistically will benefit the business.
Today, as vice president of sourcing, my role is broader and includes sourcing, raw material operations and warehousing. One of my goals is to continue to reduce risk as much as possible within our supply chain. With deeper knowledge of the business and stronger relationships with suppliers, we're now able to take a more strategic look at each category within our supply chain and determine how we'd like it to function in the future.
From a personal perspective, my wife and I love to travel and seek out amazing locations, with Patagonia, New Zealand, and Dominica being among our favorite destinations. We've been married since 1989 and are so proud of our children—a daughter who teaches kindergarten in Minneapolis and a son who is working on his Ph.D. at University of California, Berkeley with a goal of being a college professor. I'm passionate about giving back to the hometown where I raised my family, and I currently serve as treasurer on the Medina Hospital Foundation Board.