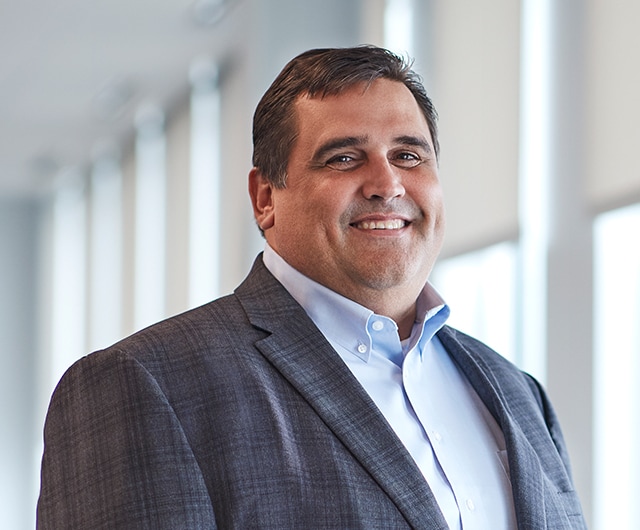 Wayne Ostrosky
Vice President, Operations
My father would always tell me, "Someday, you will find work fun." As a kid, I did not believe it, but it's true. If you find something that you love to do, the work is fun. And that's been my experience here for more than 25 years.
I started my Swagelok career as an assembly engineer in 1995, just after graduating with a Bachelor of Science degree in industrial engineering technology from Kent State University. For the first seven years, I worked on a variety of projects, from building custom equipment to developing processes to support new product launches.
From there, I moved into leadership positions as a manufacturing engineering supervisor and then product engineering manager. Leading the product engineering team is where I learned about what it truly means to be customer centric. When we didn't meet a customer's expectation, we had an opportunity to understand why. I learned how to listen to the customer's needs and then work with the team to figure out a solution.
My next role—plant manager—was one of my favorites. It was rewarding to help set the tone and lead a broad team of associates. In this role, I learned how to positively impact success by boosting morale and creating unity across the entire team.
In 2015, I was promoted to director of manufacturing strategies and systems and later served as director of operations for the fitting services group, followed by the valve services group. During my tenure, I have worked in nearly all Swagelok manufacturing facilities and have supported projects in Changshu, China, and on the Isle of Man. As a result, I've gained a tremendous amount of breadth and depth of knowledge, while also building relationships with so many great associates across the global organization—all of which has prepared me for my current role as vice president of operations.
In this role, I'm looking forward to building on our strong foundation and further contributing to the success of the organization. I am committed to "paying it forward" and helping develop leaders that can advance the company for many years to come.
I continue to be energized and motivated by taking on new challenges, all while having a lot of fun in the process. My father was right; work can be fun, and I attribute much of that fun and success to our deep-seated culture and associates that truly set us apart as an organization. I'm very proud to lead the operations organization, building upon our successful past while looking forward to an exciting future working together.
Outside of work, I serve on the board of The Cornerstone of Hope. I'm inspired by the vision and compassion of the organization in creating a world where no grieving person journeys alone.
My wife Nicole and I are raising two daughters. We could not be prouder of them and what they have become. We enjoy watching them each play volleyball, as well as cheering on our favorite college volleyball teams as a family. We also love the outdoors and spending time with our family and friends at our cabin in the mountains of Pennsylvania.