---
Jump to Section:
---
Food and Beverage
When You Need Purity, Trust Our Products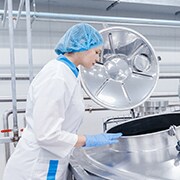 Whether you bottle, package, pasteurize, sterilize, steam, or clean, we provide the fluid system solutions that consistently meet your operational, sanitation, and safety requirements. Find an exceptional range of EPA-, 3-A Sanitary Standards-, and ISO-compatible products that meet the needs of food, beverage, and dairy plants. Also find engineering, training, and advisory services that help you manage the pressures of maintaining a leak-tight operation.
Access a large portfolio of sanitary fluid system products, including tube fittings, ACME thread fittings, valves, and more
Get prompt quotes and reliable delivery for special product fabrications, components, or skidded assemblies
Work with a supplier that continues to develop food-grade solutions that meet changing industry demands and higher pressure requirements, such as in the powdered milk sector
With more than 75 years of experience providing fluid system products and services across many industries subject to stringent oversight, we can help you reach your goals for process accuracy, workplace safety, and high sanitation levels.
Food and Beverage Applications
Our fluid system components support the preparation and packaging of food, beverage, and dairy products from meats and cheeses to sodas and sweets. We provide solutions to breweries, bakeries, and many other businesses that maintain critical unit operations, including:
Baking
Bottling
Brewing
Canning
Cleaning
Containment
Distilling
Milling
Mixing
Packaging
Passivation
Pasteurizing
Preservation
Processing
Sterilization Storage
Products for Food and Beverage
With fluid system products for virtually any application, Swagelok connects you to more choices that create process, safety, and cost benefits. We consult with food, beverage, and dairy plant engineers, as well as equipment builders, to develop standard and custom components that meet food-grade requirements and clean-in-place (CIP) and steam-in-place (SIP) standards, all backed by our Limited Lifetime Warranty.