---
Jump to Section:
---
Pulp and Paper
Start Every Day With a Clean Sheet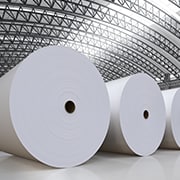 Effective pulp and paper operations—batch and continuous processing, fluid flow, heat and mass transfer, mixing, separation, utilities, and more—depend on high-integrity fluid system components. Swagelok brings paper product manufacturers the solutions, training, and services needed to benefit equipment, people, and the environment.
The reliability of our valves and fittings can help pulp and paper mills reduce emissions, maintain compliance with environmental regulations, and earn government rebates
Our fluid control components used in steam systems and for condensate return contribute significantly to leak-tight performance and energy savings
We also provide consultation, engineering assistance, as well as training, all to equip your team with the skills to work safely and efficiently
Site evaluations and advisory services can further reduce the potential for costly leak detection and repair (LDAR) procedures
We know the challenges that steam, chemicals, temperature, and vibration place on machines and instrumentation. Our solutions-first approach helps you stay in step with changing Technical Association for the Pulp, Paper and Converting Industry (TAPPI) standards for ISO quality management, manufacturing standardization, and workplace health and safety.
Pulp and paper manufacturers worldwide trust Swagelok to perform under pressure and help them responsibly meet production goals without sacrificing speed or quality.
Pulp and Paper Applications
Our expertise extends to virtually all equipment and process support systems found in pulp and paper mills, plants, and facilities including:
Agitators
Cleaning machines
Coaters
Compressed air systems
Deflakers
De-inkers
Dispersion systems
Dryers
Forming (Fourdrinier) machines
Finishing equipment
Headbox units
Hydraulic systems
Lubricating systems
Paper-making machines
Presses
Pulpers
Reject handlers
Steam systems
Stock preparation machines
Suction rolls
Thickeners
Wastewater filtration systems
Products for Pulp and Paper
To meet stringent demands in a variety of pulp and paper industry applications, we offer a complete line of fluid system components, including reliable fittings, valves, and hose products that are backed by the Swagelok® Limited Lifetime Warranty.