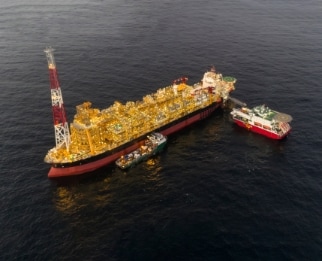 Floating Production Storage and Offloading (FPSO) Vessels
Optimizing New Oil and Gas Production
Floating production storage and offloading (FPSO) vessels have emerged as an effective, efficient, and economical way to capitalize on oil fields around the world.
The stakes are high—all onboard systems must provide uncompromising safety and reliability in some of the world's most demanding applications over a typical 20- to 30-year service life.
To optimize production, FPSO vessels face these unique challenges:
Swagelok Solutions for FPSOs
With a breadth of technical knowledge and a long history of service in the oil and gas industry, we can provide the assistance you need to succeed. Our team is well-versed in the regulations, standards, planning, design, logistics, contracts, delivery, inventory, and training that are critical considerations for every fluid system.
We can provide:
High-quality remakeable fittings and preassembled solutions for onboard systems, contributing to increased asset longevity
Technical and engineering assistance throughout each stage of your asset life cycle, from pre-FEED to operation
Onsite field engineers to assist in all phases during fabrication and construction, including precommissioning assistance
Training for fabricators, integrators, operators, and maintenance crews
Worldwide availability and support
How Swagelok Interacts with the FPSO Supply Chain
Builder
Swagelok works with builders to be sure our products comply with the operator's specifications. By providing a single source of products, along with standardized training and technical support, we help FPSO builders deliver flawless execution.
Integration
Our local specialists have a deep understanding of your needs and application requirements, and are backed by a global team of experts. Only Swagelok offers comprehensive project management support and global resources to holistically support international construction projects involving industrial fluid systems.
Owner / Operator
Owner/operators need global resources and availability, and long-term support to go along with standardized product requirements. Swagelok's global presence, breadth of products and production volume help maximize uptime and improve safety—all while controlling costs and mitigating environmental risks.
Package Vendors
Swagelok provides accurate and timely delivery of products and services to package vendors to keep projects on time. Coupled with training and onsite services, we can provide you what you need when you need it—anywhere in the world.
---
Jump to Section:
---
FPSO System and Products Map

We can support a variety of critical systems that must operate as designed to maximize operational efficiency, reliability, and safety on a typical FPSO.
Below-Hull Systems Process & Analytical Instrumentation Rotating Equipment Turret Swivel Systems
Chemical Injection (CI) Systems Instrument Panels Grab Sampling Systems Hydraulic Power Units (HPUs)
Topside Umbilical Termination Units (TUTUs) Gas Distribution Auxiliary Systems
Below-Hull Systems

Common Challenges
In recent years, many FPSOs have been converted from very large crude carriers (VLCCs). But increases in required crude oil and gas production capacities have resulted in larger topsides, leading to insufficient deck space area and crude oil storage capacity. Going forward, a heightened demand for newly built FPSO hulls is expected.
Specialty equipment located beneath the hull is typically inaccessible after installation—making long-term reliability essential. Tube and fittings must deliver leak-free performance, enabling critical applications including:
Compressed air system
Firefighting system
Valve remote control system
Inert gas system
Tandem offloading system
Swagelok can help with these products and solutions:
Process and Analytical Instrumentation

Common Challenges
System design can pose a significant challenge at the project's outset. The right expertise is not always readily available to make efficient product, material, and design choices for analytical systems.
Substandard installation during hookup and commissioning can drive up project lead times and result in leakage, emissions, and safety concerns.
High operational pressures and harsh oceanic environmental conditions have the potential to threaten the integrity of these critical systems.
Swagelok can help with these products and solutions:
Rotating Equipment

Common Challenges
Rotating equipment, including pumps, compressors, and turbines, are critical to overall operational reliability. Downtime can lead to production shutdowns and profit losses. Using dependable mechanical seal support systems will help keep these units online. If mechanical seal fluid is dirty or contains particulates, seal life can be negatively affected. Similarly, delivering the fluid at the wrong pressure or temperature can cause premature or even catastrophic seal failure.
Reliable hydraulic, instrumentation, and safety systems are essential and must operate under extreme pressure, temperature, and corrosive conditions.
Vibration is a key operational concern and mitigation includes tubing and fittings to reduce leak paths and ensure uptime. Stringent vibration and shock testing, including the U.S. Navy's ASTM F1387 certification, are often a requirement to ensure safety at sea.
Swagelok can help with these products and solutions:
Turret Swivel Systems

Common Challenges
The turret swivel system provides crucial connection points between topside and subsea systems. Some swivels utilize excessive hose lengths for these connections—but hoses require regular inspections and may require replacement after just a few years of service. If failure occurs, it could mean millions of dollars' worth of lost production.
A well-designed installation, utilizing permanently installed tube with only short jumper hoses where flexibility is required, delivers a more reliable and lower maintenance installation.
Swagelok can help with these products and solutions:
Chemical Injection (CI) Systems

Common Challenges
CI units must maintain highly accurate and repeatable chemical dosage into the production well to provide reliable production.
Leak-tight performance is absolutely essential to protect personnel and the environment, and any form of downtime can result in significant production losses.
A typical CI system may require hundreds of individual connections. Every one of them is a potential leak point. It requires significant time and labor to build, install, and commission leak-free CI systems to minimize safety and environmental risks.
We can help with quality valves and fittings, available in a range of materials, to provide leak-tight performance. Our field engineers can also inspect and provide installation verification on site.
Swagelok can help with these products and solutions:
Instrument Panels

Common Challenges
Control panels play an important role in both efficient production and FPSO safety. Reliable assembly and design knowledge are required for panel performance and longevity.
Wellhead control panels are comprised of a variety of high-, medium-, and low-pressure subsystems. Costs for each must be optimized to achieve fit-for-purpose performance.
As a key safety mechanism, fusible plug panels must offer uncompromising integrity and reliability throughout the life of the vessel.
We can offer quality products to help ensure these systems achieve the performance they demand.
Swagelok can help with these products and solutions:
Grab Sampling Systems
Common Challenges
Sample collection is not always intuitive, and system design requires extensive technical knowledge. Systems must be properly designed to deliver representative samples and allow operators to safely use the system, maintain chain of custody compliance, and make proper process control decisions.
Samples must be maintained at the right pressure and temperature to best represent true process conditions. Appropriate containers and collection are key.
Samples can sometimes be toxic, requiring special safety measures. Finding the right system requires evaluating your required sample pressure, temperature, phase, compatibility, and chemical composition.
We can provide standardized or customized fluid system solutions that meet your system requirements, whether you simply need the right components for your application or full system designs and builds.
Swagelok can help with these products and solutions:
Hydraulic Power Units (HPUs)

Common Challenges
Hydraulic power units provide power to topside, turret, and subsea production systems. HPU downtime can shut down these systems and cause significant financial losses each day. Depending on the mode of failure, they also can pose significant safety and environmental risks.
HPUs are complex pieces of equipment, comprising various pumps, motors, accumulators, instrumentation panels, valves, tubes, and tube fittings that must all work together harmoniously. HPUs can be long lead-time systems with component availability being a big driving factor.
We can provide quality products, modular solutions, and capital project support.
Swagelok can help with these products and solutions:
Topside Umbilical Termination Units (TUTUs)

Common Challenges
TUTUs, the associated umbilical connection, and isolation panels must provide a leak-tight connection as well as an isolation point between topside and subsea equipment while ensuring safe isolation for maintenance activities.
These systems require high-quality and reliable components to perform their crucial functions. Failure can cause loss of containment or safety incidents, resulting in potential shutdowns and loss of production.
We can provide high-quality, reliable components for the pressures, flows, and fluids you require. Plus, we have the ability to provide a fully designed, assembled, and tested panel to the required specifications.
Swagelok can help with these products and solutions:
Gas Distribution

Common Challenges
Whether for laboratory use or critical production functions like pressure regulation throughout a ship, substandard designed and installed gas distribution systems can cause major inefficiencies.
Unidentified leaks can pose a potential safety risk and also lead to costs that add up significantly.
Poorly designed gas panels can lead to maintenance and servicing problems.
The Swagelok® gas distribution program can provide standard gas distribution designs from the supply point to the point of use. This can include full system design, manufacture, installation, and support through our field engineering team.
Swagelok can help with these products and solutions:
Auxiliary Systems

Looking for assistance with additional packages and applications? We can deliver quality components and solutions for all of the following systems:
Topside:
Hull
Swagelok Solutions and Total Support
Global Construction Services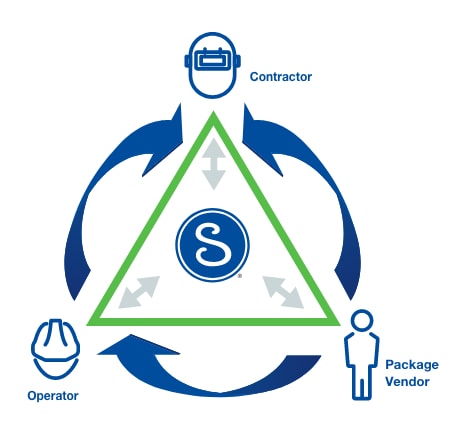 From initial concept through commissioning, FPSO construction involves stakeholders from around the world, making construction a unique logistical challenge.
No matter how complex your project may be, Swagelok® Global Construction Services can help with your fluid system needs:
We start by providing benefits at the pre-FEED and FEED stages. Our engineers consult with owner companies and EPCs, assisting with standardization and specifications while recommending efficiencies and optimized cost-saving configurations
As the project proceeds, our team will work with you to manage timelines and complex logistical and supply chain issues, helping to maintain job-site inventory and product availability throughout the project for a more predictable schedule
We can help coordinate between multiple entities, providing customized or international contracts, helping to understand government regulations, and clearing the way for on-time completion
We help manage construction costs, improve construction schedules, and achieve predictable performance for your small-bore fluid systems
Learn more about Swagelok Global Construction Services
Materials Excellence
Corrosion can cause significant problems in marine environments—and we're ready and equipped to help you select the right combination of materials to keep your systems running safely and smoothly for longer.
Our proprietary quality controls help every part meet the demanding needs of your application. We source all component materials from select vendors, with quality standards that are checked continuously and consistently for every part we make
Swagelok® 316/316L stainless steel tube fittings and instrumentation valves contain more nickel and chromium than required by ASTM standards for bars and forgings, granting our components higher resistance to localized corrosion
Higher-grade alloys, including 6-Moly, 2507 super duplex, Hastelloy® C-276, Inconel® 625, and more, are available for even greater corrosion resistance in the harshest environments. Our materials are available as NACE MR0175/ISO 15156 and NORSOK compliant
Special coatings and treatments are available, including jacketed tube, SilcoNert® coatings, electropolished finishes, heat tracing, and more
Engineered combinations—combining 316/316L fittings with other high-grade alloys into fully rated assemblies—can deliver the corrosion resistance you need in a cost-effective manner
Learn more about material selection
Design and Assembly Services
Swagelok® Custom Solutions creates fabricated assemblies and packages that range from systems with just a few components to full panels and enclosures. Reduce labor costs, cut down lead times to finished package construction, and reduce waste via Swagelok-controlled assembly.
Benefits include:
Enhanced operational safety
Minimized onsite work and assembly
A predictable build schedule
Engineering compliance and documentation, including CAD and P&ID
Zero rework required for critical assemblies
Designs can include a range of client-specified OEM products
Our approach is collaborative. Whether you need Factory Acceptance Tests, quality documentation, electrical installation, or assembly anywhere in the world, we work closely with you to understand your needs. We can optimize your existing designs, provide configurable "off-the-shelf" designs, make specialized systems, or fully customize your build.
All packages are assembled, tested, and delivered with the backing of Swagelok's Limited Lifetime Warranty.
Learn more about Swagelok Design and Assembly Services
Field Engineering
Proper training and optimized materials can contribute to a lifetime of reliable service. But how can you be sure that all third-party packages and construction adhere to your quality requirements?
Whether it's material recommendations, standardization of engineered systems, or efficient installation, our field engineers are available to collaborate with you throughout all stages of the project.
We can provide fluid system installation oversight (FSIO) to help prevent errors throughout construction. This will minimize the need for rework during hookup and commissioning, as well as costly maintenance and repair once your asset is in service. Installation oversight services include training and competency management, onsite material management, and technical support, as well as inspection and system flushing guidance
Additionally, our field engineers can evaluate your critical systems to detect potential problems, optimize fluid and sampling systems, and advise on maintenance strategy
We have the global reach and local support necessary to bring that expertise to you—when and where it's convenient
Learn More About Swagelok Field Engineering
Training and Support
Properly trained teams are highly beneficial in the rapidly evolving oil and gas industry. A well-trained team can contribute to safely operating, properly designed, and leak-tight systems.
Whether your personnel are designing, installing, or maintaining critical fluid systems, we offer a variety of training opportunities that can help you stay on schedule, minimize rework, improve performance and design, and enhance safety across your assets.
Our experienced trainers are well-versed in applicable trends, systems, processes, markets, regulations, and industry best practices. We can provide valuable education on use of tools, installation techniques, and safety protocols. Our courses combine classroom and virtual learning with practical, hands-on activities. Training can be conducted from our global facilities, onsite at your facility, or remotely via virtual training platforms.
Opportunities include:
LEARN MORE ABOUT SWAGELOK TRAINING OPPORTUNITIES
Global Distribution Network
With Swagelok, you get global reach with localized support. That means wherever you are operating, we support your success by offering access to:
Local associates who have a deep understanding of your business needs and application requirements
Local stocked inventory and personalized onsite support and services, from component selection and design help to fluid system evaluations and recommendations on installation practices and system enhancements
Associates who know the culture, speak the language, and understand regional needs
Manufacturing, field engineering, technical expertise, and logistical support
Local specialists are backed by a global team of experts, ensuring you receive the recommendations you need to improve the performance, productivity, reliability, and safety of your fluid systems—all while controlling costs and mitigating environmental risks.
We maintain a global distribution network that spans more than 70 countries and involves 9400 associates, more than 200 authorized Swagelok sales and service center locations, 20 manufacturing facilities, and five global tech centers—all so you have access to the products and support you need when you need it.
Inventory and Availability
Availability is a critical part of our brand promise. We ensure our sales and service centers have the right level of inventory for the products you need immediately:
Thousands of standard products in inventory
Over 6800 line items shipped daily
99% shipping and inventory accuracy
Swagelok keeps significant amounts of raw materials in case of supply chain interruption. We also have a global team of professionals working with our suppliers to ensure supply chain stability.
LEARN MORE ABOUT BUSINESS SUPPORT SERVICES

Traceability and Quality Control
Raw material traceability is an integral part of our overall quality system throughout all phases of material receipt, manufacturing, processing, storage, and delivery. We hold to a higher standard for materials composition and ensure compliance from all of our raw materials suppliers via regular audits. All fittings are marked with the Swagelok name, material type, and trace identifier.
The quality system our fittings are manufactured under has been approved by:
A Promise as Strong as Our Products
The Swagelok Limited Lifetime Warranty demonstrates our relentless commitment to quality and our customers. Every Swagelok® product is backed by this promise for the life of the product, so you can rest assured that your fluid system investment is protected.
Embark on a Successful Venture With Swagelok
We are ready to help make your FPSO project a success. With our global presence, local support, quality solutions, and industry-leading support, you can realize:
Enhanced safety
Minimized environmental impact
Optimized project execution
Improved uptime and reliability
Lower total cost of ownership
Interested in learning more about how we can help with your FPSO project? We offer localized service to customers around the world with our strategically located network of authorized sales and service centers.