---
Jump to Section:
---
Industrial Machinery and Equipment
Solutions for Everything That Moves Your Business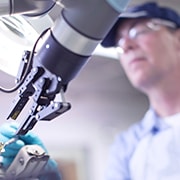 We help companies achieve proper fluid supply, lubrication, and cooling for industrial machines and equipment found everywhere. Whether you build hydraulic and pneumatic equipment, provide machinery to other markets, directly support industrial equipment manufacturers, or maintain machines in your plant or facility, Swagelok products, training, and services can make the difference between leak-tight performance and leaking profits due to material waste and process inefficiency.
We know what is needed to take the pressure off plant managers, QA engineers, and others who manufacture, maintain, or operate industrial machines and equipment. That includes:
More knowledge about effective solutions for minimizing harsh vibration and mechanical stresses in critical fluid systems
More standard and custom product options so that production lines do not come to a halt and service stays on schedule
More safety and dependability designed into all types of applications that require a specialist's touch
We can help you design, build, install, and optimize everything that moves your business forward. With 200-plus authorized Swagelok sales and service center (SSC) locations worldwide, professional assistance is always easy to find.
Industrial Machinery and Equipment Applications
With a broad scope of fluid system products and an extensive knowledge of industrial machine design, we can support all types of connection and joining needs including for:
Automation and assembly equipment
Bending machines
Compressors and test devices
Electromechanical challenges
Fuel cell applications
Heat exchangers
Hydraulic equipment
Injection molding machines
Pneumatic equipment
Presses and pumps
Refrigeration systems
Rolling mills
Thermal and heat exchange devices
Various accessory equipment
Products for Industrial Machinery and Equipment
All fluid system products from Swagelok are intended to enable the highest level of application, process, and instrumentation integrity throughout your plant, in your service facility, or from the machines that you build. Backed by our transferrable Limited Lifetime Warranty that follows your equipment, each component is the result of more than 75 years of engineering excellence. Solutions designed to keep industrial machines in motion while keeping people safe include: