---
Jump to Section:
---
Power
The Power to Connect, Convey, Control, and Customize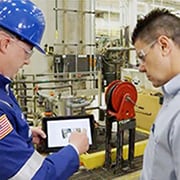 Companies that generate, store, convert, or convey power need fluid systems that provide leak-tight performance. From nuclear, hydroelectric, thermal, gas- and coal-fired plants to combined cycle and cogeneration facilities, Swagelok stands behind the power industry with the products, services, and training to perform under pressure. These pressures can come in many forms including:
Costly problems like vibration, leakage, thermal shock, and improper installation that may also lead to safety concerns
Evolving environmental regulations that demand engineering and fabrication support to reduce greenhouse gas (GHG) emissions
Changing safety and industry standards such as ASME Section III for the nuclear sector that challenge companies to keep pace
High pressures and temperatures, superheated steam, hazardous chemicals—all require fluid system solutions that are suited for harsh, high-stress environments. Swagelok® products have been proven in critical power industry applications for over 75 years. Across the world, energy producers, storers, and distributors trust our design and manufacturing expertise to help them keep the power on.
Helping Energize the World
Every day, Swagelok products support a broad range of power industry applications including:
Boilers
Continuous emission monitoring systems (CEMS)
Feedwater systems
Floodgates (stop gates) in dams
Heat recovery steam generators (HRSG)
Industrial gas turbines
Instrumentation piping
Lube oil skids
Peaking units
Pumps
Small modular reactors (SMRs)
Smokestack scrubbers
Steam and water analysis systems (SWAS)
Water quality monitoring systems (Degas analysis)
Products for the Power Industry
Our fluid system products are supported worldwide by 200-plus authorized Swagelok sales and service centers and are backed by the Swagelok Limited Lifetime Warranty. From commonly used products to custom components and assemblies, everything we design, manufacture, and build is to ensure the highest level of application, process, and instrumentation integrity.
This page highlights only a few of the products available for fuel delivery, gas distribution, steam sampling, water sampling, CEMS, lube oil, and other critical power plant systems. We also provide solutions for assets like boilers, generators, industrial gas turbines, and an array of rotary equipment. Many products are designed to ASME nuclear codes and standards.