---
Jump to Section:
---
Water and Wastewater Treatment
Fluid Handling Solutions for Water and Wastewater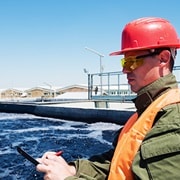 We can support your water or wastewater treatment plant with a broad scope of fluid system products and services. The need for clean, sustainable water supplies is as important as ever. Reliable process control helps ensure water is fit for use. We can work with you across your facility to:
Minimize energy consumption and leaks by evaluating fluid systems for optimal design, performance, and integrity
Eliminate or extend the time between maintenance interventions so your plant can function more efficiently with fewer interruptions
Leverage the latest advances in materials science to outfit your facilities with stronger, corrosion-resistant solutions
Swagelok specialists can evaluate your fluid systems and develop a plan that gives you confidence you are extending the life of your most important assets. Tap into our global expertise in water and wastewater treatment applications to achieve your goals for high-quality water supplies.
Environmental Applications
Our products support a variety of wastewater and process water treatment systems for municipalities, commercial ventures, and residential developments. Common applications and areas of focus include:
Aeration systems
Chemical injection skids
Chlorine rooms
Desalination plants
Diesel engines
Filtration systems
Sampling systems
Hydraulic systems
Injection wells
Level measurement/bubbler systems
Lime plants
Oil/water separators
Oxygen plants
Piping components
Potable water disinfection
Pump flow protection
Reverse osmosis (RO) filtration
Scrubbers
Sludge buildings
Sodium hypochlorite skids
Pump/booster stations
Products for Water & Wastewater Treatment
Our fluid system products are supported worldwide by 200-plus authorized Swagelok sales and service center locations and backed by our Limited Lifetime Warranty. From commonly used products to custom components and assemblies, everything we design, manufacture, and assemble is to ensure the highest level of application, process, and instrumentation integrity.