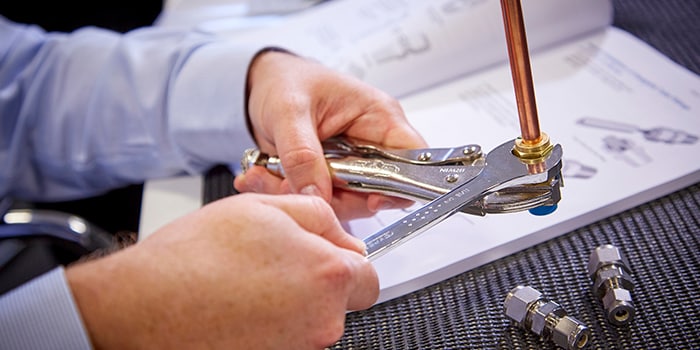 The Swagelok® Tubing System Training Program
The Swagelok® Tubing System Training Program is a globally standardized workshop designed to give your team thorough instruction on industry best practices for ensuring high-integrity tubing systems.
No matter your industry, this hands-on training is ideal for installers, engineers, designers, QC/QA inspectors, and others responsible for designing, installing, maintaining, and/or inspecting tubing systems. This Swagelok training is designed to cover how to install a ferrule tube fitting, inspection, tube bending, and other relevant topics.
Each course is facilitated by a Swagelok-certified subject matter expert and provides theoretical and practical experience through a combination of explanation, demonstration, hands-on exercises, and validation. All attendees receive a Swagelok certificate of completion, subject to successful completion of both practical and theoretical exam.
Currently, our Tube System Training Program is available for the following industries:
Learn about the relationship between installation requirements and safety in the workplace with our industry specific standardized training programs for Hydrogen, Oil & Gas and Chemical & Refining applications.
Explore Additional Educational Resources