---
Jump to Section:
---
Natural Gas: Vehicles & Refueling
Dependable, Safe Performance for Natural Gas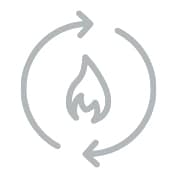 Liquified natural gas (LNG) and compressed natural gas (CNG) are two of the most widely accessible means of reducing emissions associated with traditional gasoline- and diesel-powered vehicles. Both alternative fuel technologies are experiencing widespread utilization on a global scale as clean energy innovation soars to new heights.
Safe handling of LNG and CNG requires high-quality compression, transfer, and refueling systems from the source to the vehicle as storage pressures can exceed 275 bar (4000 psi)
Any leak can result in significant hazards, so OEMs need local inventory and a supplier that understands their safety requirements
Elastomeric components play an important role in improving LNG and CNG system reliability and must be considered in materials selection
It is our mission to deliver solutions for any LNG and CNG application. Our long-standing experience in alternative fuel industries, backed by our comprehensive service and support, can help overcome your toughest fluid system-related operational challenges.
LNG/CNG Applications
We support LNG/CNG vehicle and refueling applications with fluid system solutions for:
Virtual pipelines
Refueling stations (infrastructure)
Commercial and fleet vehicles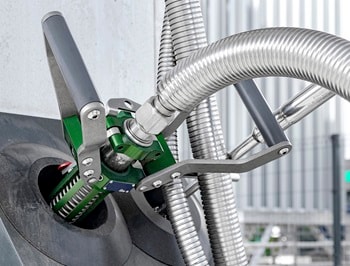 Contact a fluid system specialist

Solutions for Natural Gas Distribution
Maintaining a Reliable Virtual Pipeline
Dependable distribution of LNG and CNG from the production facility to points of use is essential to operational success.
Across the virtual pipeline—where gas is compressed at high densities in tanks and transported to where it is needed—all components must be designed for maximum reliability.
Leak-tight performance is essential for reliable containment to eliminate fugitive emissions and protect the atmosphere
High-pressure performance is critical for any fluid system in the virtual pipeline where natural gas is compressed to achieve maximum energy density
Preassembled system solutions can allow infrastructure to develop more quickly with pretested, proven designs
All of our high-integrity components are backed by our deep experience and expertise in fluid systems. That means we are exceptionally qualified to help you develop critical new natural gas distribution infrastructure.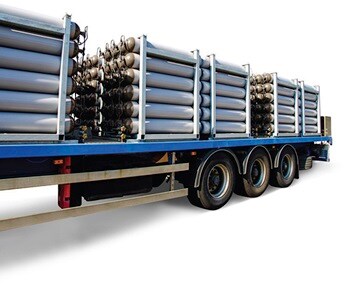 Swagelok supports CNG/LNG distribution with:
Solutions for Natural Gas Compression and Refueling
Achieving Safe and Reliable Refueling
The proliferation of natural gas vehicles requires widespread, reliable refueling infrastructure to realize its full business potential. LNG and CNG stations must contend with several challenges while achieving the highest levels of safety and reliability to protect end users and their vehicles.
Safe dispenser technology that accommodates significant pressure and temperature ranges is needed to transfer LNG and CNG from storage to on-vehicle tanks
Maximized capacity for refueling stations is critical, with the ability to store large quantities of highly pressurized gases onsite for consumer distribution
Reliable, consistent assembly of complex systems is required to quickly scale the building of refueling infrastructure.
We can help meet these needs with a range of solutions and services—everything from individual components to preassembled systems to onsite engineering assistance.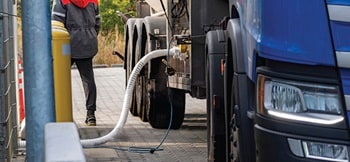 Swagelok supports LNG/CNG compression and refueling with:
Solutions for Natural Gas Mobility
Dependable Performance for Heavy-Duty Vehicles
According to NGV Global, more than 30 million natural gas vehicles may already be operating worldwide. To support this industry's growth and volume, LNG and CNG fuel systems must provide uncompromising reliability and safety. This requires overcoming some unique operational challenges:
Fittings and connections must reliably withstand vibrations associated with a moving vehicle
All parts of the system must be able to withstand temperature changes. As natural gas expands from high-pressure storage to lower pressure when fed to the engine, gas temperature drops significantly
On-vehicle solutions from Swagelok deliver on these needs and more. They are certified to the ECE R110 and NGV 3.1 standards and are included in the International Material Data System (IMDS).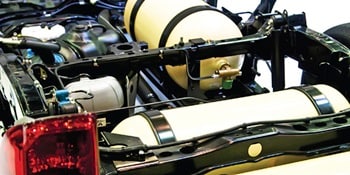 Swagelok supports natural gas mobility with: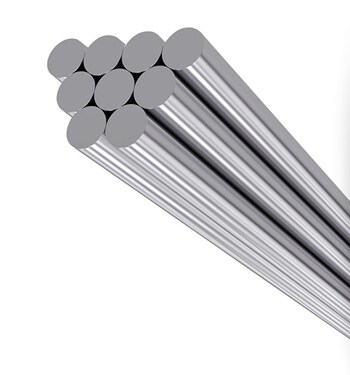 Get the Right Materials
Don't Risk Your Reputation with the Wrong Alloys
Our products are made of alloys with at least two (often up to ten) different elements in optimized formulas to deliver superior corrosion resistance.
LNG/CNG mobility and transportation applications have unique operational demands. We'll help you specify the proper materials for fuel systems, tube trailers, infrastructure panels, dispensing systems, and more.
Lesser-quality stainless steels with low nickel and chromium content are more susceptible to on-road corrosion issues
Swagelok® 316 stainless steel is specifically formulated for enhanced strength and corrosion resistance
Elastomeric components must also be considered during selection for chemical compatibility and durability
With a deep understanding of the factors that contribute to corrosion, we simplify the materials selection process.