Field Engineering Q&A: What to Know for Better Fluid and Sampling System Performance
Field Engineering Q&A: How a Global Engineering Team is Making an Impact to Deliver Better Fluid and Sampling System Performance
In a new series, Swagelok Reference Point is highlighting field engineering services—our global, boots-on-the-ground team of engineering experts who are tasked with solving our customers' toughest challenges. Today's post focuses on what Field Engineering is, and how fluid system operators everywhere can benefit.
Fluid and sampling systems are complex, and there are any number of different issues or challenges that can impact their optimized operation every day.
Leaks and leak testing. Preventing corrosion and corrosion-related problems. Ensuring sample accuracy. Materials incompatibility. For technicians and engineers, these issues can represent a continuous stream of operational headaches. Sometimes, operators simply do not have enough time to proactively stay on top of every little operational error that may occur. Other times, they may not even be aware these issues are occurring—because on an oil and gas platform, a chemical refining facility, or other environment where there exists an industrial fluid system, there are dozens of other priorities to tackle.
Learn about Swagelok Field Engineering Services
How to meet these challenges? Swagelok Reference Point sat down with Director of Services and Training, Andy DelSignore to discuss the things you may not know about Field Engineering.
Swagelok Reference Point (SRP): Tell us about field engineering from Swagelok. What is it exactly, and how did it get started?
Andy DelSignore: Field engineering was born out of true customer needs. In the past, Swagelok factory engineers worked closely with Swagelok sales and service center staff to help encourage a better understanding of the technical knowledge involved in successfully using Swagelok products in the field. Those same engineers would also help diagnose performance issues when required—and our customers experienced some real benefits when Swagelok engineers were in the field helping them directly, identifying operational challenges that may have been going unrecognized. We were providing proactive leak testing, helping to prevent corrosion, and many other services.
We recognized the value for our customers, and those engineers soon became dedicated to hands-on problem solving in our customers' facilities everywhere. They are technical experts in all areas of fluid and sampling systems and have comprehensive knowledge of Swagelok products and their applications—including tubing, tube fittings, valves, and much more.
And over the past few years, Swagelok has grown this team considerably. Nearly every Swagelok Sales and Service Center today employs a dedicated team of field engineers, servicing customers across the globe.
To serve our global customers, the Swagelok field engineering team will have grown by more than 150% from 2016-2020.

SRP: Why is that global presence important?
Andy: Our customers have different challenges depending on where they do business—so it is critical that our engineers have specific, localized knowledge on market conditions all over the world. They know the regulations unique to their service area. They speak the language. And they are dedicated to helping local customers on a one-to-one, face-to-face basis.
At the same time, being part of a global network means that no matter where our field engineers are working, they can leverage established, consistent best practices for fluid system performance. If your organization is operating oil and gas platforms in multiple global regions, for instance, Swagelok field engineers can help establish consistency across every application.
SRP: What does the process look like for customers working with our field engineers? What kind of experience can they expect?
Andy: Our field engineers go on-site to help diagnose and solve any issue relating to a fluid or sampling system. We can help answer questions like:
Am I losing money from leaks I don't know about?
Do my samples accurately reflect process conditions?
Are the right materials selected to prevent corrosion?
Are safety and operational risks being mitigated where needed?
Have any components been improperly installed?
Our teams can address a specific question or challenge you have been experiencing, or we can perform a comprehensive audit of your system to identify several potential areas of improvement. Following an evaluation, we provide a comprehensive report that identifies, recommends and prioritizes opportunities for improvement. Every recommendation is based exclusively on your fluid system needs.
SRP: Why can our customers rely on Swagelok field engineers for sampling system service?
Andy: Every Swagelok field engineer goes through robust and rigorous training, based in established best practices from industry experts, Tony Waters and Phil Harris. Waters and Harris perform all of our formal training around analytical instrumentation and related systems, ensuring that any Swagelok field engineer around the world is equipped with the right expertise to identify and address your challenges.
SRP: Other companies offer evaluation services for industrial fluid systems. What makes Swagelok field engineering different?
Andy: Since Swagelok does not offer repair services, our field engineers are able to operate completely independently. We recommend only what we have truly identified as issues that could impact your quality, productivity, or system safety.
SRP: What else should customers know about Swagelok field engineering?
Andy: Put simply, our field engineers are whom you can rely on to solve any fluid or sampling system issue. Whether it is a problem you do not have the time to address properly, something your staff may not have the skill set to resolve, or if there are higher priorities elsewhere in the plant where you need to focus your labor and energy, we can help.
Want to learn more about field engineering services and how you can benefit? Get in touch with your local Swagelok Sales and Service Center today:
Related Articles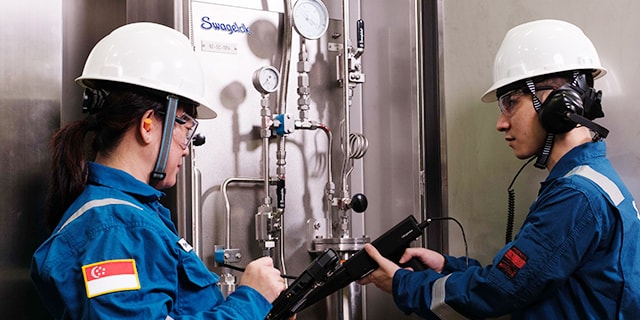 Learn how fluid system training and advisory services can help operators bridge a growing skills gap across several industries.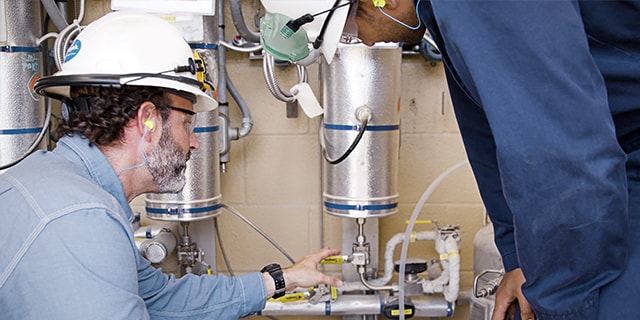 When fluid systems fail to perform safely and efficiently, plant productivity suffers. Swagelok can relieve the pressure of maintaining good system performance by providing expert guidance and helping to create a culture of continuous improvement.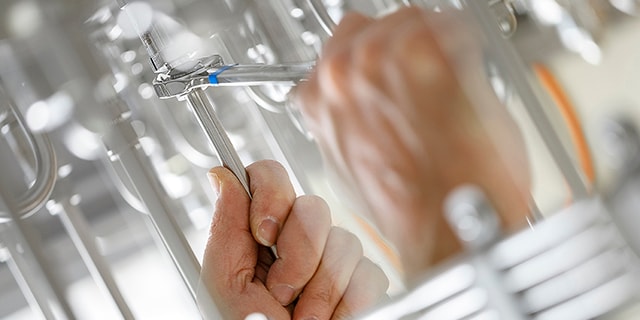 The smallest leak can present a serious issue when maintaining your plant's safety and profitability. Understand how and why leaks occur, how to locate and test for them, and ultimately how to develop a strategy to address and reduce leaks plant-wide.